Sausage pricker | for sausage and tempeh making
€8,99 – €17,50
A sausage pricker has several thin and sharp needles, used to remove air bubbles from sausages and charcuterie.
Add these related products and get 5% off
Porkert meat grinder
Sausage stuffer | 3/5/7/10 L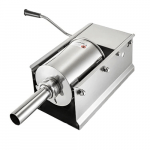 Description
What is a sausage pricker
A sausage pricker has several thin and sharp needles.
What do you use a sausage pricker for?
You use it to prick out air bubbles from sausages or charcuterie. Air bubbles increase the risk of spoilage and look unappetizing. In addition, they can tear the sausage casing. Due to the very thin needles of the pricker, air can escape, but not meat, moisture or fat. This pricker can be used with both artificial casings and natural casings and for both fresh and dried and cooked sausages. Also perfect for puncturing air bubbles under the casing around, for example, a coppa.
Tempeh
If you want to make your own tempeh, this pricker is also ideal for puncturing your casing so the mold will get just the right amount of oxygen.
Content
Choose from two types:

a simple. yet effective pricker with two razorsharp stainless steel needles
a professional, sturdy three prong pricker

Both come with protective cover
Dishwasher safe
Online English spoken sausage making workshop
In this English spoken online workshop you will learn the theory and practice of making fresh sausages. What types of meat work best, where can you find your ingredients, what are the main pitfalls and what funny things can you do with casings. Foodwriter 'Meneer Wateetons', author of several books on fermentation and alternative food preparation techniques,  will teach you all about fermentation, curing salts, food safety, pH, starter cultures, molds and drying conditions. Click here for more info.