Calcium chloride | for home cheese making
€6,99
Calcium chloride restores the calcium balance of milk. Without calcium chloride, you cannot make cheese from pasteurised milk.
In stock
Add these related products and get 5% off
Description
What is calcium chloride?
The mineral calcium chloride (CaCl2, E509) is a commonly used additive for cheese production. Calcium ensures that essential components of milk can coagulate into cheese. It restores the calcium balance of milk. The addition of this also enhances the effect of rennet. Without this, you simply cannot make cheese from pasteurized milk. Itcan be in liquid or crystalized form.
Other applications
It can also be used for brewing, chlorides give beer a smooth, full-bodied and sweeter taste, while the calcium contributes to the flocculation of proteins and the stabilization of the taste.
It can also be used as a coagulant for making tofu.
How does calcium chloride work in cheese making
It increases the calcium content and thus the curdling willingness of pasteurized milk. It is not necessary for raw milk, but it does help.
How much do you need?
The recommended dosage
is 2,5 ml for 10 liters of milk.
or 1-2 gr for 10 liters of milk
It is usually added to milk before starting the process of cheese making. Dissolve it in milk slowly by stirring until it's completely dissolved, then add bacteria and rennet.
Content
10 gr
Ingredients: calcium chloride (E509)
Made in Poland
Allergens: none
Storage instructions
Buying calcium chloride?
Order it at startercultures.eu, the European webshop for all your fermentation needs. By Meneer Wateetons, renowned Dutch fermentation expert and author. Order on weekdays before  3 pm and we'll ship the same day.  Questions on the usage of the tofu starter kit? Ask them in our chat, we're here to help!
Online on demand workshop 'how to make vegan cheese at home' (subtitled)
During this English subtitled workshop you will learn the theory and practice of making vegan cheese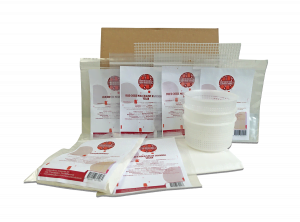 s at home, with a focus on vegan camembert and vegan blue cheese. Foodwriter 'Meneer Wateetons', author of several books on fermentation and alternative food preparation techniques,  will teach you all about fermentation, curing salts, food safety, pH, starter cultures, molds and drying conditions. Click here for more info.