Vegan plantbased rennet | for cheese making
€11,99
No cheese without rennet. Rennet is a binding agent that causes milk to curdle. This rennet is made from plants.
In stock
Add these related products and get 5% off
Description
What is rennet?
Rennet is a complex of digestive enzymes that is used to give cheese a solid structure (curdling). Rennet is available as a liquid, powder and can be of animal, microbial or plant origin.
Is cheese always vegetarian?
No, many cheeses use rennet extracted from the abomasum of calves. Strictly speaking, cheese is therefore not vegetarian. However, microorganisms produce various substances during their growth, including protein-splitting enzymes needed for cheese making. We make use of those. So, you can make true vegetarian cheese using our vegetable rennet.
How does plant based rennet work?
No cheese without rennet. Rennet is a binding agent that causes milk to curdle. Rennet is also referred to as coagulant in biotechnology. The solids will eventually give you cheese when you drain the liquid (the whey). Our vegan plant based rennet is obtained from the pistils of the thistle flower (Cynara cardúnculus). It is an amber-brown liquid, which is made up of a mixture of cyprosins and proteinases in saline solution, with a high coagulant activity. The use of this coagulant favors the release of very pleasant flavors and aromas due to its action on the degradation of proteins to precursor amino acids of aromas typical of the thistle flower, all with a higher yield of the overall cheese manufacturing process.
About this vegan plantbased rennet, all the benefits
Our rennet is plantbased, so it does not come from calves.
Truly plantbased, so vegan
Obtained from the pistils of the thistle flower (Cynara cardúnculus)
Includes a dropper for easy and controled dosing
non-GMO
Contents
1 bottle of 30 ml of liquid plant based rennet
Produced in Spain
Storage instructions
keep refrigerated
will keep at least 10 months in the fridge
please note that rennets have a notorious short expiration date, but in reality will work long after that
Dosage vegan plantbased rennet
4-6 drops per 1-2 l of milk
Buying v
egan plantbased rennet

?

Order your vegan rennet at startercultures.eu, the European webshop for all your fermentation needs. By Meneer Wateetons, renowned Dutch fermentation expert and author. Order on weekdays before  3 pm and we'll ship the same day.  Questions on the usage of vegan rennet? Ask them in our chat, we're here to help!
Note: not for plant based cheeses
Please note that this vegan plant based rennet cannot be used to coagulate plant based milks or cashews to make a vegan cheese. It is intended for animal milk. Check out our vegan cheese course on how to make true vegan cheese at home.
Online on demand workshop 'how to make vegan cheese at home' (subtitled)
During this English subtitled workshop you will learn the theory and practice of making vegan cheese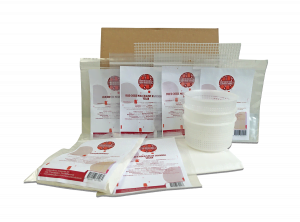 s at home, with a focus on vegan camembert and vegan blue cheese. Foodwriter 'Meneer Wateetons', author of several books on fermentation and alternative food preparation techniques,  will teach you all about fermentation, curing salts, food safety, pH, starter cultures, molds and drying conditions. Click here for more info.
Only logged in customers who have purchased this product may leave a review.