Heart shaped linen casing | for your true love
€5,99
Nothing says "I love you" better than a heart shaped dry cured sausage!
In stock
Add these related products and get 5% off
Sausage stuffer | 3/5/7/10 L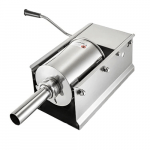 Description
Nothing says "I love you" better than a heart shaped dry cured sausage!
Suggestions for use of this heart shaped casing
✅ Proposals
✅ Valentines day
✅ After succesful heart surgery
✅ Place it on the bed with candles and rose petals
Content
1 pink heart shaped linen casing
Holds about 500 grams of meat
linen, say can be dried
With noose for hanging
Inedible
Can also be used for fresh sausages
Buying a h
eart shaped casing

 ?

Order your heart shaped casing at startercultures.eu, the European webshop for all your fermentation , sausage and charcuterie needs. By Meneer Wateetons, renowned Dutch fermentation and meat expert and author. Order on weekdays before  3 pm and we'll ship the same day.  Questions on the usage ? Ask them in our chat, we're here to help!
Online English spoken sausage making workshop
In this English spoken online workshop you will learn the theory and practice of making fresh sausages. What types of meat work best, where can you find your ingredients, what are the main pitfalls and what funny things can you do with casings. Foodwriter 'Meneer Wateetons', author of several books on fermentation and alternative food preparation techniques,  will teach you all about fermentation, curing salts, food safety, pH, starter cultures, molds and drying conditions. Click here for more info.
Only logged in customers who have purchased this product may leave a review.