Vegan cheese starter culture II | Lb.Casei and St.Thermophilus
€12,99
This vegan starter is no longer available. Please check our other vegan starters
Out of stock
Add these related products and get 5% off
Description
What is vegan cheese
Vegan or vegetable cheese is not made from milk, but from another vegetable base product. Vegan cheese usually consists of nuts, nutritional yeast and oil. Cashew nuts are extremely popular among vegan cheeses, because of their soft taste and creamy texture. But almonds are also a popular ingredient to make vegan cheese.
Why a vegan cheese starter culture
To get a good fermentation (acidification and flavor formation) you need a cheese starter culture. However, most starter cultures available are not vegan. The vegan starter cultures of Startercultures.eu are. The use of vegan yogurt or vinegar as a starter culture, for example, also has disadvantages because these bacteria are not specifically intended for cheese. The vegan cheese starter cultures from startercultures.eu are.
Also for regular cheese
The fact that our starters are vegan doesn't mean that can only be used for vegan cheese. They are perfectly suitable for regular cheeses as well.
Vegan cheese starter culture II
A different blend of ripening ferments, with the famous Thermophilus culture, which besides guiding the fermentation process, provides the typical flavors of traditional cheeses.
Tip
Also check our vegan molds for your own vegan camembert or roquefort cheese!
Content vegan cheese starter culture
3 grams
Contents: starter cultures
enough for about 3 kg of vegan cheese
Micro-organisms:  Lb.Casei and St.Thermophilus produced in synthetic ( non-dairy ) media.
Made in Spain
Vegan
Allergens: none
Storage instructions
In the fridge or freezer. Shelf life is about 2 years in the freezer. Preferably use at once.
How do I make vegan cheese
Recommended dosage: 1 gram for every kg of cheese.
Do you want to learn how to make vegan cheese yourself? Our friends of fullofplants.com offer a great FREE ebook with recipes if you subscribe to their mailinglist.
Online on demand workshop 'how to make vegan cheese at home' (subtitled)
During this English subtitled workshop you will learn the theory and practice of making vegan cheese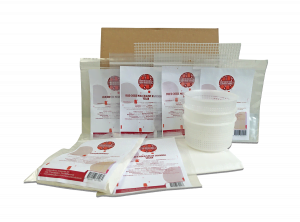 s at home, with a focus on vegan camembert and vegan blue cheese . Foodwriter 'Meneer Wateetons', author of several books on fermentation and alternative food preparation techniques,  will teach you all about fermentation, curing salts, food safety, pH, starter cultures, molds and drying conditions. Click here for more info.
Only logged in customers who have purchased this product may leave a review.