Red smear cheese culture | Brevibacterium linens
€11,99
Brevibacterium linens is characteristic of smear ripened cheeses such as muenster and epoisses. Sale: best before 30-9-2022
In stock
Add these related products and get 5% off
Description
What is red smear cheese culture – Brevibacterium linens
Red smear cheese culture Brevibacterium linens is characteristic of smear ripened, or washed rine cheeses such as muenster, Brick, Limburger and époisses. Enough for about 100 L of milk. Brevibacterium linens is also ubiquitously present on the human skin, where it causes foot odor. Consequently, these cheeses have a strong odor which some may consider stinky. Read more about Brevibacterium linens on Wikipedia.
Content
10 grams of  Brevibacterium linens, enough for about 100L of milk
The starter is completely natural without preservatives, additives, artificial colors or flavors. It contains no GMO ingredients and it is gluten-free.
Produced in Italy
Contents: starter cultures
Allergens: milk
Not suitable for vegan cheese, but please check out our large selection of vegan cheese molds and cultures.
Micro organisms in red smear cheese culture – Brevibacterium linens
Brevibacterium linens
Combine this cheese starter culture with:
This culture has to be used in combination with a mesophilic or thermofilic acidifying cheese starter culture.
Looking for vegan cheese cultures?
This mold contains milk. If you want to make vegan cheese, check out our large selection of vegan cheese molds and cultures.
Storage instructions
In the fridge or freezer. Shelf life is approximately 1,5 years in the freezer  or 12 months at +5ºC.
How do you use this culture?
This is a Direct Vat Inoculation (DVI) culture, meaning you can add the starter straight from the freezer to the milk. Ot it can be used in the washing brine.
Online on demand workshop 'how to make vegan cheese at home' (subtitled)
During this English subtitled workshop you will learn the theory and practice of making vegan cheese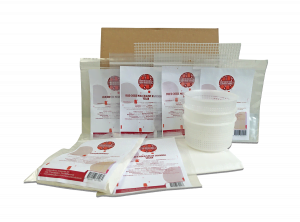 s at home, with a focus on vegan camembert and vegan blue cheese. Foodwriter 'Meneer Wateetons', author of several books on fermentation and alternative food preparation techniques,  will teach you all about fermentation, curing salts, food safety, pH, starter cultures, molds and drying conditions. Click here for more info.