Real animal rennet | for cheese making
€7,99
Although there is nothing wrong with microbial rennet, nothing beats real animal rennet in cheese making.
In stock
Description
What is rennet?
Rennet is a complex of digestive enzymes that is used to give cheese it's solid structure (curdling). It is available as a liquid, powder and can be of animal, microbial or vegetable origin. Animal rennit is by far the most used for cheeses and generally considered superior. This type comes from the fourth cow's stomach: the abomasum. The protein splitting enzymes chymosin is found in this stomach. This enzyme is only found in the abomasum of calves.
How does it work?
No cheese without rennet. It is a binding agent that causes milk to curdle together. It is also referred to as coagulant in biotechnology. The solids will eventually become the cheese when you drain the liquid (the whey).
Why from an animal?
Although there is nothing wrong with microbial rennet, nothing beats the real stuff in cheese making
Very powerful, you need very little of it
The use of rennet is mandatory in the production of some types of cheese, such as farmhouse cheeses.
Content
25 ml real animal rennet.
Storage instructions
Can be stored in the refrigerator for at least six months
Dosage
cottage cheese types: 1 drop / L.
soft cheeses: 3-4 drop / L.
hard cheeses: 3-4 drops / L.
Online on demand workshop 'how to make vegan cheese at home' (subtitled)
During this English subtitled workshop you will learn the theory and practice of making vegan cheese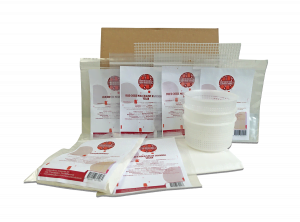 s at home, with a focus on vegan camembert and vegan blue cheese. Foodwriter 'Meneer Wateetons', author of several books on fermentation and alternative food preparation techniques,  will teach you all about fermentation, curing salts, food safety, pH, starter cultures, molds and drying conditions. Click here for more info.
Additional information
| | |
| --- | --- |
| Weight | 0.15 kg |
| EAN | 5420069901748 |