Glucono Delta Lactone (GDL) | meat acidifier
€7,99
GDL lowers the pH of your meat without fermentation. Making it supereasy and safe to make your own sausages.
In stock
Add these related products and get 5% off
Porkert meat grinder
Sausage stuffer | 3/5/7/10 L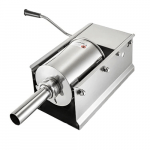 Description
What is GDL (Glucono-delta-lactone, E575)
An important function of fermenting sausages is lowering the pH. It is also the most risky, difficult part. Couldn't you just lower the pH with vinegar, lemon juice or the battery acid? Yes, that's possible. Many sausage makers do it this way. Not with battery acid, of course. They use Glucono-delta-lactone, or GDL, a naturally occurring food ingredient. It is used in the production of food products to lower the pH, or increase the acidity, of a product. In addition to an acidity regulator, you can also use Glucono-delta-lactone to slow the deterioration of your product and prevent discoloration.
It is guaranteed to work, 100% safe and you do not have to ferment anymore, it just works while your sausage is in the fridge.
Contents
100 grams of GDL
GDL is also known as E575
Dosage
GDL lowers the pH by about 0.1 point per gram per kilo. Assuming a fresh pork pH of 5.5-5.8, you need 6 grams per kilo to lower from 5.8 to 5.2, or a maximum of 12 grams to ferment to a slightly safer pH of 4.6.
How do you use GDL
Add the GDL- with nitrite salt and seasoning-  to your sausage meat
Make your sausages
Leave the sausages in the fridge for two days to acidify
Move them to your drying room.
Then dry the sausages after the two days in the refrigerator for about 4 to 5 days at room temperature.
Optionally, you can combine this method with a slow starter, for example a RAPS biostart plus or a Primal SK soft, which gives virtually no acidification but lots of flavor.
Online English spoken 'how to make your own dry cured charcuterie' workshop
Learn how to make your own whole muscle charcuterie from 'Meneer Wateetons', the author of the (dutch) leading work in this field: 'Over Charcuterie'. Cured ham, pancetta, guanciale, lardo, coppa and more delicious Southern European dried meat products will be covered. In this online English spoken workshop you will learn everything about salting, drying, maturing, vacuuming, smoking, temperature and humidity in 90 minutes, after which you will be ready to make your own charcuterie yourself, safe and tasty. Click here for more info.