Vegan yoghurt starter culture
€11,99
Our vegan starter culture makes the real tasty vegan yogurt, aromatic and cosistent, with probiotics; good for the immune system!
In stock
Add these related products and get 5% off
Description
Our vegan starter culture makes genuine vegan yoghurt of exceptional taste, consistency, and aroma.
What is yoghurt?
Yoghurt, aka yogurt, is the best-known fermented milk in the world. It is obtained by the fermentation of milk produced by two lactic bacteria that act in symbiosis: Lactobacillus bulgaricus and Streptococcus thermophilus. Vegan yogurt ferment is the result of a meticulous selection of bacteria produced in non-dairy milk that are most suitable to obtain a soy yoghurt with a creamy texture and a traditional flavor in a totally natural way.
About our vegan yoghurt starter culture
Vegan yogurt packs fiber, calcium, and protein into your diet—not to mention probiotics, which are great for digestive health. As more consumers are ditching dairy it is easier than ever to find great vegan options at your local grocery store. But making it fresh at home with our our Vegan yoghurt starter culture has an unparalleled taste, and shows your friends how easy it is to produce non-industrial dairy! Once you try our Vegan yoghurt starter culture, we guarantee that you'll be hooked!
Like vegan?
Check out our selection of vegan dairy starter cultures and tools for home fermentation. Vegan cheese, vegan yoghurt, vegan kefir, and more.
Yogurt with probiotic bacteria 
Yogurt is a healthy and nutritious food consumed around the world. Though it's traditionally made from cow's milk, vegan versions use nondairy plant sources like almonds, soy, coconuts, peas, or cashews. Notably, most vegan yogurts include live active cultures, which are probiotics — or beneficial gut bacteria — that support healthy digestion
Micro-organisms
Lactobacillus bulgaricus, Streptococcus thermophilus suitable for vegans.
Content
1 sachet for 2 liters of vegetable milk.
100% natural ingredients.
Bacteria produced in non-dairy milk.
Without thickeners, preservatives or colorants.
Hecho En España
Why a dried starter?
dried starters have a long shelf life
easy to ship / take with you, also abroad
does not deteriorate due to transport
light in weight (shipping costs)
you can buy the starter even if you do not intend to make vegan yoghurt immediately
you can save a part in case the quality of your fresh yoghurt deteriorates
after activation, the effect of dried yoghurt as a starter is identical to fresh yoghurt
Storage instructions
In the fridge or freezer. Save the dried yogurt starter in a ziploc bag after use, or vacuumsealed. Shelf life is at least a year in the freezer, but probably longer.
Activating your vegan yoghurt starter culture with soy milk
Slowly heat a glass non dairy milk to 90 ° C while stirring.
Remove the milk from the heat, pour into a clean jar and let cool to 43 ° C.
Add the starter and mix well.
Close the jar and let it ferment at room temperature until set.
It usually takes about 6-8 hours, but can take up to 12 hours to set.
Allow the yoghurt to cool down for at least another 6 hours in the refrigerator.
You can now eat this 1 L batch yoghurt directly, and leave a spoonfull for the next batch, but it's recommended to freeze it ice cube bags as a 'mother starter'. Each ice cube can be used as a starter for a liter of milk
Tip: making vegan yoghurt with other vegan milk
In vegetable drinks such as soy, the texture of the resulting yogurt is creamy, like that of a traditional yogurt. In the case of other vegetable milks such as oatmeal, rice or almondmilk you will need thickeners such as tapioca starch to thicken the milk before you ferment it. Heat your milk with about 3-5 % tapioca starch while stirring and bring to a boil, then cool down to around 43 degrees and add the starter culture.
Online on demand workshop 'how to make vegan cheese at home' (subtitled)
During this English subtitled workshop you will learn the theory and practice of making vegan cheese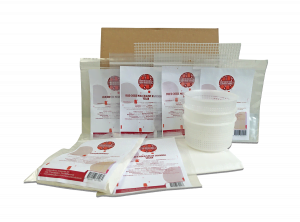 s at home, with a focus on vegan camembert and vegan blue cheese . Foodwriter 'Meneer Wateetons', author of several books on fermentation and alternative food preparation techniques,  will teach you all about fermentation, curing salts, food safety, pH, starter cultures, molds and drying conditions. Click here for more info.