Ascorbic acid | for sausages and charcuterie
€7,50
Ascorbic acid, or vitamin C, is an antioxidant. It ensures that the red-coloring effect of nitrite is enhanced.
Out of stock
Add these related products and get 5% off
1

×
Sausage stuffer | 3/5/7/10 L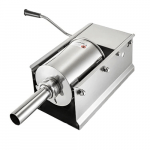 Description
What is ascorbic acid?
Ascorbic acid, or vitamin C, is an antioxidant.
What do you use ascorbic acid for?
Ascorbic acid ensures that the red-coloring effect of nitrite in meat is enhanced. This works very quickly in cooked sausages and somewhat slower in dried sausages. It also counteracts the rancidity of fat and the (slightly) carcinogenic nitrosamine formation of nitrite and nitrate is prevented.
Contents
Also known as E300
Content 50 grams, enough for up to 100 kilos of sausages
Now in handy small resealable packaging
Can also be used as an additive in processed meats or pâtés
Allergens: none
Dosage
Dosage: 0.5-1 gram per kilogram of meat (0.05-0.1 %%).
Note
Ascorbic acid and nitrite reaction in water. This gives a chlorine-like odor and the effect of both is reduced. Do not combine nitrite salt / salvianda with ascorbic acid in one go, but add one after the other in the mix. Then you will be fine. Compare it to how you ad yeast and salt one afther the other when making bread.
Buying a
scorbic acid for sausages

?

Order your ascorbic acid for sausages at startercultures.eu, the European webshop for all your fermentation needs'. By Meneer Wateetons, renowned Dutch fermentation expert and author. Order on weekdays before  3 pm and we'll ship the same day.  Questions on the usage? Ask them in our chat, we're here to help!
Online English spoken 'how to make your own dry cured charcuterie' workshop
Learn how to make your own whole muscle charcuterie from 'Meneer Wateetons', the author of the (dutch) leading work in this field: 'Over Charcuterie'. Cured ham, pancetta, guanciale, lardo, coppa and more delicious Southern European dried meat products will be covered. In this online English spoken workshop you will learn everything about salting, drying, maturing, vacuuming, smoking, temperature and humidity in 90 minutes, after which you will be ready to make your own charcuterie yourself, safe and tasty. Click here for more info.